Can I build it myself?
Absolutely.
For Windows, the best Minetest cross-build kit ever released is ready for you to download and try. The Downloads page is at:
https://downloads.minetest.org/
It includes sources for Irrlicht, LuaJit, and all other required libraries. There are prebuilt libraries as well, but you don't need to use them.
The Irrlicht sources have been patched to correct problems. The LuaJit sources are a new release which partly corrects long-standing memory issues.
This is a Linux-to-Windows build kit. In other words, you run scripts under Linux and out pop EXE files for Windows. You can build both 32-bit and 64-bit versions.
As a bonus, if you're an experienced developer, you can use the same kit to build other games for Windows.
No commercial software of any type is needed to build Windows MT EXE files. In short, a purchase of Microsoft Visual Studio is not involved.
In the future, you'll be able to build Windows Minetest under Windows as well as Linux.
The Final Minetest Downloads page provides links to build kits and to a git repo.
The build kits include source code for the core engine, Irrlicht, LuaJit, Bucket Game, and other components.
We recommend that you use the build kits to build Final Minetest packages. This is the only way to get all of the speedups and new features.
The Final MT version of WorldEdit, known as CoderEdit, offers major bug fixes and improvements:
(a) Loads of large MTS schems no longer punch large holes at random locations.
(b) MTS schem loads now mapgen the target regions and fill them with air before proceeding. This fixes the problem of large black areas that appear randomly.
(c) The region copy and move commands include similar fixes.
(d) CoderEdit makes it easy to transfer large regions *with meta*. Old Minetest 5 can't presently do that. Instead, it simply locks up.
(e) CoderEdit can work with huge regions even when LuaJit is used. Old Minetest 5 dies and is buried by that issue as well.
(f) CoderEdit supports multiple spellings for commands. You can also use either "/" or "//" as a command prefix.
The core engine now supports a per-world settings file named "world.conf".
Simply put a file similar to "minetest.conf" in the same directory as "world.mt" and rename it to "world.conf". No command-line switches are needed.
This feature fixes a problem with stand-alone worlds that has existed for years.
Footstep Sounds, Falling Sand, and Leaf Decay can now be turned off or on. The associated parameters are:
enable_footstep = false (or)
enable_footsteps = false
enable_falling_sand = false
enable_leaf_decay = false
These parameters default to false (turned off).
Note: It's necessary to turn falling sand and leaf decay off in order to view some old worlds as they were intended to be viewed.
Sand and leaves were sometimes used, in the past, as building materials. If the new settings are used, this is, of course, possible once again.
Mod Security is now turned off by default. This has the useful effect that your mods and games will actually work instead of spewing error messages.
The new standard game provides something that has been missing from most Minetest games in the past.
It makes an attempt to document where each modpack and mod came from and how each has been modified.
The new standard game includes replacements for many upstream mods and modpacks. For example:
CoderEdit replaces WorldEdit
CoderFood fixes problems with some upstream hudbar mods
CoderFruit replaces various "fruit" mods

CoderMobs is a large and fun unified "mobs" framework
CoderSea replaces various "sea" mods
CoderSkins is the "skins" system

CoderSky is the "sky" system
CoderWarp supports fixed and dynamic spawn points plus TP /commands
DecorPack replaces Home Decor

MT Machines replaces Technic and Pipeworks
default replaces More Trees
Final MT is built against a copy of LuaJit with improved memory management.
This means that Final MT runs mods much faster than non-LuaJit MTs, but it should be less prone than most LuaJit MTs are to running out of memory.
The standard game supports two player "spawn" modes: Single-Spawn and Multi-Spawn.
In Single-Spawn mode, spawn is specified by a setting similar to the following in a world's ".conf" file:
static_spawn_point = 0, 10.5, 0
Note: An underscore is required between "spawn" and "point".
In Multi-Spawn mode, multiple spawns are supported and random spawns are used. Spawns may be added, listed, or removed using appropriate "/commands".
The default spawn mode is Multi-Spawn. To disable this mode and enable Single-Spawn, use the following setting:
disable_multispawn = true
A "static_spawn_point" setting such as the example indicated previously is also required in this mode.
An arbitrary number of tourist teleport "/commands" in addition to "/spawn" are supported.
CoderMobs
CoderMobs is a Final Minetest animal and/or monster mobset. It has been balanced so as to maximize variety while using less disk space than some of the other mobsets.
CoderMobs includes its own tailored version of Mobs Redo. If CoderMobs is installed, Mobs Redo should not be installed.
The goal is for a world host to be able to enable or disable mobs individually, or to change their characteristics, through the use of config-file settings.
Different config files can be used to produce different types of environments ranging from peaceful Gardens of Eden to deadly jungles where only the strong survive.
To review the different animals and creatures, log-in to a CoderMobs world where you have admin rights and try commands similar to the following:
/se codermobs:bee
/se codermobs:bunny
/se codermobs:farhorse
/se codermobs:sheep_blue
/se codermobs:tree_monster
/se petores:gold
/se whinny:pegasus etc.
/se is the same as /spawnentity. But it's easier to type. This is another feature that should have been added years ago.
Final Minetest likes to make things easier. Old Minetest 5 is about telling users that they don't matter.
For admins, the following command will delete nearby CoderMob animals and/or creatures:
/deletecodermobs
Tamed mobs, e.g., pets, shouldn't be affected.
This command works on entities with any of the following internal name prefixes:
codermobs: critters: petores: whinny:
CoderSea
This is a much-condensed version of the CoderSea documentation.
Welcome to CoderSea
The ocean for you and me
CoderSea, see, is the MT sea
CoderSea, it's Lua and not 'C'
This is the sea
that in your world needs to be
CoderSea is a Final Minetest modpack. It's a replacement for "sea" 0.4.2 that adds a number of fixes and improvements.
Partial list of CoderSea features:
* Works with seas that already exist ("sea" 0.4.2 doesn't)
* Drop-in replacement for "sea" (some items are omitted)
* Adds starfish and other sprite characters
* Sea-plants provide optional and adjustable illumination
* Much-simplified ABM code
* Much-simplified seaglass, seastone, etc., code
* Sea-glass stairs and slabs illumination can be turned off and on
* Solves the usual air-bubble problem
* Air-bubble solution is backwards compatible with old worlds
* Air-bubble solution is superior to "plantlike_rooted" approach
* Seastone and related nodes are optional
* Adds fish, jellyfish, sharks, and other mobs (optional)
* Reversible - CoderSea can revert some of its effects
* Drowning is optional
* Flexible spelling for some options
* Includes Ethereal sea-plants
* Sea-grass supports optional waving
CoderSea requirements:
The only required mods are default, dye, and stairs.
Not required:
Ethereal is supported, but optional.
StairsShine is no longer required or used. CoderSea includes its own internal, and improved, stairs illumination code.
Mobs are implemented using an internal copy of the Mobs Redo API. Mobs Redo itself isn't required.
CoderSea features in more detail.
S1. Existing worlds.
You can add CoderSea to an existing world. Unlike "sea" 0.4.2, CoderSea doesn't need to be present at "mapgen" time in order for sealife to appear.
S2. CoderSea replaces Sea.
If an existing world has "sea" 0.4.2, you can replace the mod with CoderSea.
If you do so, CoderSea will automatically remove or replace many of the old mod's items. For example:
* "Sea" 0.4.2 plants will be removed
* "Sea" 0.4.2 shipwrecks will remain
Some old items may show up as unknown nodes.
S3. CoderSea is reversible.
CoderSea is largely reversible. The following config-file setting can be used to make most plants, mobs, sprites, and special nodes added by CoderSea disappear:
codersea_reset = true
Note: Shipwrecks are an exception. They'll remain whether or not CoderSea is reset.
S4. Solution to air-bubble problem.
Historically, if MT nodes that aren't full cubes are placed underwater, they've looked completely wrong.
For example, in some cases, non-cube items have been surrounded by a dark blue region that moves up and down. In other cases, they've seemed to be embedded in air bubbles.
"sea" 0.4.2 addressed the problem for sea-plants by wrapping them in a layer of special nodes.
CoderSea uses a similar approach. Specifically, it replaces default water, around certain objects, with coderwater. This is done both for sea-plants and for stairs made out of CoderSea materials.
CoderSea's approach works better than "sea's" approach. It's superior, for multiple reasons, to Old Minetest 5's solution (plantlike_rooted) as well.
S5. Plants Glow is Quite a Show.
CoderSea makes sea-plants glow so as to illuminate the underwater world. This feature can be enabled or disabled and the brightness level is also adjustable.
S6. Other sea-plant features.
* If Ethereal isn't installed, CoderSea adds its own versions of Ethereal's coral and seaweed.
If Ethereal is installed, CoderSea is compatible with Ethereal's seaplants. Specifically, CoderSea's version of the old "noairblocks" code supports seaplants of this type.
"sea's" seaplant growth ABMs have also been rewritten.
CoderSea fixes visual glitches that occur with "sea" in newer releases of Minetest and/or minetest_game.
Damaged sea-plants, those with pieces missing from their middle, will usually grow back as long as the damage isn't too severe.
S7. Delete Entities feature.
CoderSea adds a chat command "/deleteentsea" that can be used to delete nearby CoderSea entities.
S8. Try CoderSea Stairs This I Dares.
CoderSea adds two groups of slabs and stairs:
* Regular slabs and stairs made out of seastone and related materials. Complete list: seabrick, seacobble, seagravel, seastone.
* Illuminated slabs and stairs made out of seaglass. These are similar to "stairsshine" slabs and stairs, but they add a new feature: You can turn seaglass slabs and stairs illumination off or on by punching the nodes.
You can use config-file settings to enable or disable these objects.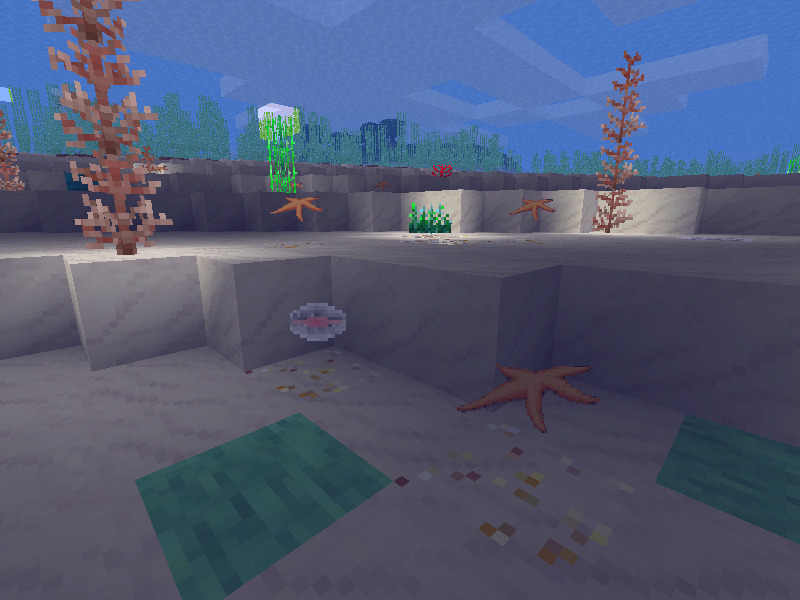 S9. CoderSea mobs overview.
CoderSea provides its own optional versions of these water mobs (i.e., animals):
clownfish, jellyfish, shark, tropical fish, and turtle
CoderSea also adds starfish and a few other stationary, though slightly active, sprites.
You can use config-file settings to enable or disable CoderSea mobs en masse or on a species basis.
You can also set spawn rates and Active Object Count limits for the mobs. Additionally, you can make the mobs either passive or hostile.
S10. Misc. settings.
You can use config-file settings to control generation rates of CoderSea objects such as algae, seaglass, seaplants, and seastone.
Drowning can be enabled or disabled.
Shipwrecks are enabled by default, but can be disabled.